Colchester United's 1st Team Physio celebrates 1000th match!
---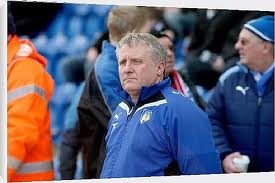 Congratulations to Tony Flynn on reaching his 1000th match and who amazingly has only missed 3 matches in his 23 year career!  As an FMA Member Tony was presented with his "21 Club Award" at the FMA Conference & Awards in 2016.  Team mates from Colchester United also attended the event to congratulate Tony on this fantastic achievement.  (Read more about the FMA Conference and Awards)
Tony, who has been at his current club for 12 years, made his 1,000th appearance on Saturday as The U's beat Newport County 2-0 at the community stadium.
He started his career as a physio at Leyton Orient in 1996 before moving in 2003 to join Wimbledon, which later became the MK Dons.
He joined Colchester in 2006, just after the club were promoted to the championship.
Tony said a lot had changed over the years in the way physiotherapists treat injured players – but that the trusty 'magic sponge' was still a key part of his kit.
"The game has got quicker and more intense," he said.
"When I started there was me, the kit man, the manager, the assistant manager and the youth team manager.
"Now we have lots of people who back us up.
"We have sports scientists who help out in terms of telling us if the balance of training and treatment is good.
"The surgical procedures are also much more advanced now, particularly with ACL (anterior cruciate ligament) injuries.
"But if you look, a lot of us still carry water and a sponge.
"I always carry a bag of ice too in case someone gets a knock.
"Some of the old things physios have been doing for many years still work.
"When you see a player back on his feet after an injury it is really nice.
"It is great to see them back out there doing their stuff."
Tony said he didn't realise his 1,000th match was approaching and only found out shortly before the match.
He has some good advice for those looking to get into football physiotherapy – to get into a club as soon as you can.
"It is all very well working with your local gym but there is a difference between that and the high intensity of professional football.
"I don't think people often understand how very intensive it is which leads to more injuries.
"I would advise they get into a football club as soon as soon as they can and get in at the sharp end.
"Write to the football clubs and offer your services.
"You may not be doing very much hands-on but you will pick up, learn and absorb knowledge."
View the 21 Club Hall of Fame – CLICK HERE