Tony Tompos joins Aberdeen FC as First Team Physiotherapist
---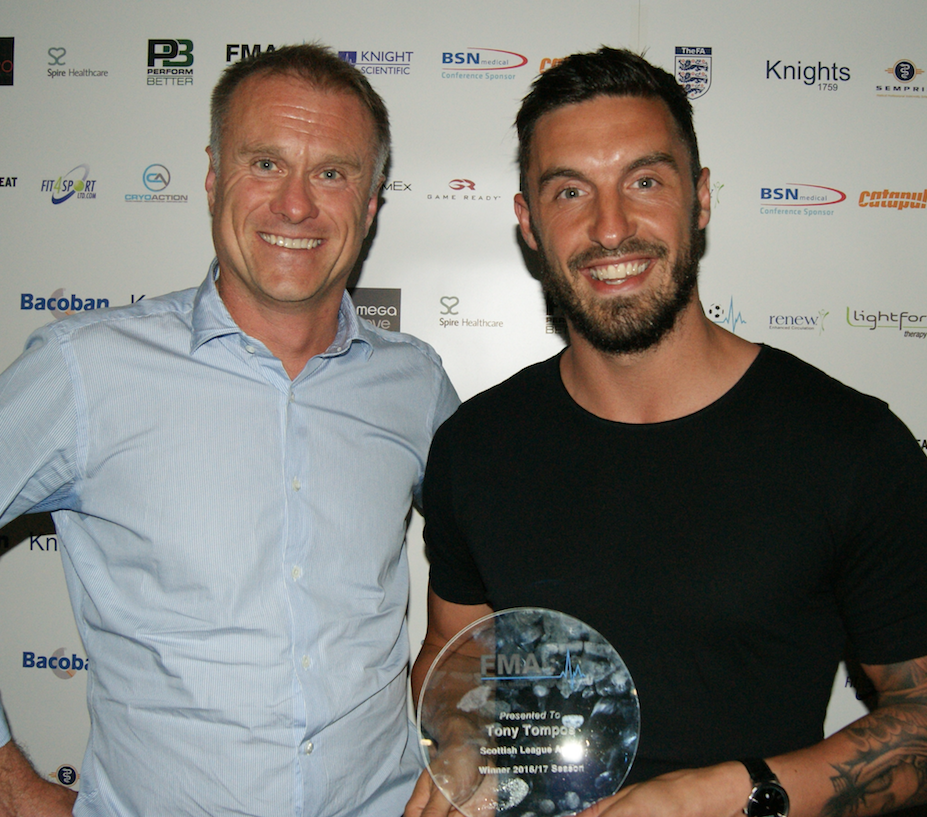 FMA Member, Tony Tompos, has left St Johnstone to take up a new postition at Aberdeen FC. In an Tony with the Club Tony stated "I am from Rochdale, which is east Manchester. It is between Yorkshire and Lancashire, that is why I have a strange accent!
"When I was younger, I actually supported West Bromwich Albion as a kid. My dad and I used to travel down to their games. He always supported them for some reason. We bought season tickets the season Derek McInnes was captain and helped them get promoted from the Championship to the Premier League.
"I got released as a footballer at the age of 16 by Rochdale and then I played part-time for a few years whilst I was studying.
"I did my undergrad in Sports Rehabilitation at Bolton Uni and graduated in 2010 and then did my masters in physiotherapy at Teeside University so I moved up to Middlesbrough. Just before finishing there, I got offered a job at Accrington Stanley in 2013. I had worked there as a volunteer and helped out when I was a student.
"They are a great club and I learned so much because the medical facilities were a bit more basic than you would get at a top club, so I had to learn on the job. It was great experience.
"I had a year there with the youth team before moving to Notts County. They have a really good sport medical team with Jonny Wilson and Becky Knight who are both really top physios. I managed to spend a year and half with them, just learning and soaking up everything I could.
"I then moved back home and started working for Wigan. I was there for about a season, working with their U23 side to start with, and then the first team by the end. I know Sam Cosgrove as he was at Wigan when I was there.
"I was involved when they got promoted, which was amazing and that gave me my first real taste of being involved in a first team environment.
"Michael McBride was one of the first team physios at Wigan. Michael was also involved with the Scotland international team so he put me forward for the St Johnstone job. I appreciated his recommendation and took the job 18 months ago. I had a great time in Perth. St Johnstone are a great club and I want to wish them all the best for the future.
"I have moved around a bit but each time it gets a bit longer, so I am looking forward to hopefully staying in Aberdeen for a while! It is part of the industry I work in. You need to move about to get the experience. I could have stayed at Accrington Stanley and stayed on my own, but I enjoy challenging and pushing myself.
"I am looking forward to working within a bigger medical department. It is an exciting time for the club with the new stadium hopefully not too far away too.
"We were in the gym yesterday with all the lads and the ethos of the club is really good. The sports science team want them to lift strong and run fast and there is no better way of reducing injuries than to do that. Everyone has bought into that.
"I have been very impressed with what I have seen so far. I was not surprised as Aberdeen are one of the biggest clubs in Scotland. It is nice to be involved within that environment of elite professional sport.
"The team here work the players very hard but they make them robust enough to be able to meet the demands of football. It is something that is unvalued at other clubs. But here there is a big emphasis on it. The monitoring with the GPS, the wellness, even the nutrition, I have been really impressed with the set up.
"All the players have made me welcome. I have been working with the injured lads, Joe Lewis and Michael Devlin, and it has been good to get to know them. I have been getting caught up with the rehab side of things.
"Myself and Adam Stokes are the phyisos for the first team, along with Aimee Clark who looks after the U20s and Aimee also assists with first team duties. Adam is the head of medical and first team physio, so I see my role as working with Adam and Aimee and planning rehabs and delivery as well as being an extra pair of hands in the treatment room and travelling with the first team.
"It just means we have more heads to bash together. I have experiences from my previous clubs and so has Adam. We can work together with Graham Kirk and plan a rehab programme for a player. So from the minute a player is injured, we can discuss the assessment, we can discuss further intervention if the player needs it. And then we will start to build a plan with a date for when we think the player will be available again. We will have a beginning, middle and end rehab plan for the player and hopefully the players will meet their targets.
"New research comes out all the time. I am a big advocate for evidence based medicine. That is why what I have tried to implement at my previous clubs is exactly the same as what Adam does. As soon as research comes out, I like to try it because if we are not at the forefront of it, then who is? We could be waiting years for someone to try stuff.
"I like reading research papers, especially on hamstrings and groins and strength conditioning and stuff like that, and then implement it with the players.
"The stuff I learned four or five years ago is almost non existent now. It changes that quickly. It terms of rehab, that is definitely the case. The stuff I would do for a hamstring injury three years ago is completely different to what I would do now. So you have to keep up to date."
PICTURED: Tony Tompos at the FMA Awards 2018 receives Scottish League Award from Dorian Cook, Lightforce Laser Therapy, the FMA Conference and Awards
READ MORE ABOUT THE FMA AWARDS – CLICK HERE