Manchester City Medical Team stop team bus at scene of Anfield attack to treat injured Liverpool fan after Champions League defeat
---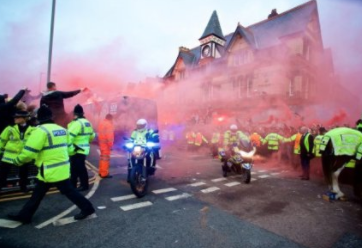 The City bus was attacked as it made its way to the ground ahead of Wednesday night's 3-0 quarter-final first-leg defeat.
The vehicle had to be replaced due to the damage caused by missiles but stopped in the exact same spot as the attack to treat the supporter, reports the Manchester Evening News .
The fan was involved in a collision with a car on Arkles Lane and staff on the City bus spotted the immediate aftermath as they made their way home following the defeat.
They told the coach driver to pull over and the City medical team got off the bus, still in their distinctive City tracksuits, to treat the fan until the emergency services arrived.
An onlooker said: "They were amazing. It was at the exact spot where the bus had been battered by bottles and bricks, but they didn't hesitate, and helped the poor girl out.
"City should be very proud of their staff – it says a lot for them as a club that they were prepared to help after being given such a frightening welcome."
Earlier, the City bus had been pelted with objects after Liverpool fans had organised a 'coach greeting', saying the intended to 'scare' the City players back to 'Mancland'.
Fans chanted, waved banners and let off flares, smoke bombs and fireworks as the coach approached, but it soon turned ugly with the bus being hit by missiles.
Windows were cracked and shattered, and the bus was deemed to be unfit to transport the players home again after their 3-0 defeat.
Liverpool have vowed to take action against any fans found to have taken part, while Merseyside Police are actively trying to track down the people who hurled objects at the coach.
Uefa have already charged Liverpool on four counts – of setting off fireworks, throwing objects, causing damage and crowd disturbances.
City are understood to be pressing Merseyside Police to answers after their concerns about the route to the ground being a possible flashpoint appear to have fallen on deaf ears.