SO WHAT DO COLLEAGUES GET UP TO IN THE FIRST YEARS AFTER LEAVING THE GAME?
---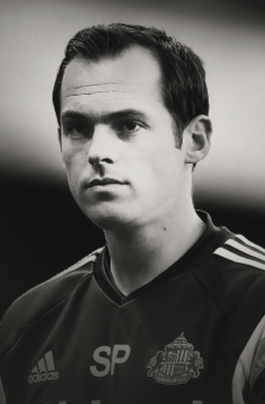 We talk to former Sunderland AFC First Team Sports Scientist – Scott Pearce
What were the circumstances in which you left football?
I left Sunderland AFC in the summer of 2017 after 11 years due to the clubs restructuring process following relegation from the Premier League. Not only was I still smarting from the club's relegation I was now out of work. Unfortunately, this is the reality of operating at the senior end of professional football and my first experience of it. I was told many a time from experienced coaches to prepare for this but if I'm honest I never did.
Did you have any idea at the time what you might wish to do?
My first reaction was to find a job in football ASAP, but I didn't envisage several stumbling blocks. Sunderland AFC was the only club I had worked for and was also the only job that I ever had since graduating from university. Now I had to consider things such as family, salary and location.
I have had many opportunities to return to full time football but due to the reasons mentioned this was not plausible. Finding a pathway back into full time professional football is difficult given the high number of available physical performance coaches and a limited number of opportunities.
How did you eventually find a path to go down and what are you doing now?
Prior to what I am doing now I was asked if I could support Taiwan National Team for a camp in September 2017. Working  alongside some talented English coaches I was appointed Head of Performance on a part time basis supporting the country in the Asian Cup qualifiers and the Asian Games. This proved to be invaluable experience for me. Alongside this I volunteered to coach at a local school on a football academy programme to stay sharp and to support the grassroots game.
Now I am currently Head Strength and Conditioning coach for the Foundation of Light providing S&C support to the education scholarship programme as well as managing the facility for external athletes. Working with a range of athletes from different sports is developing my skill set further and running the commercial aspect is enhancing my management and administrative abilities.
Did your experience in football help?
A career in football has given me a wide skill set that I apply to my current role, but I have also developed new skills such as management, commercial and administration skills. I know this will stand my in good stead for any future opportunities.
Any plans for a change of direction in the future?
After much reflection I soon appreciated what I loved most about my role was the applied coaching and football. I am now working towards a MSc in Performance Coaching. I certainly  arbour ambitions to return to full  time football if the opportunity arises. However, this may be in another capacity, spending so much time learning from several top-quality coaches has certainly wetted my appetite for football coaching.
Any advice for colleagues considering opting out of the game or who find themselves having to?
Speaking from my own personal experiences use the time out of football to critically reflect on what you want to do next (whether returning to football or not) and how you are going to get there. I developed a personal development plan which I am now working towards, something I wish I had done whilst I was still employed I must add.
Reflect on your skills and you will soon appreciate how these can be transferred into other sports and sectors and you will have acquired experiences that employers will desire.
Most importantly though spend time with family and loved ones, full time football can be so time consuming and we are all guilty of losing sight of what really matters.
SOURCE: football medicine & science – Issue 28, Spring 2019