football medicine & performance focus on mental health
---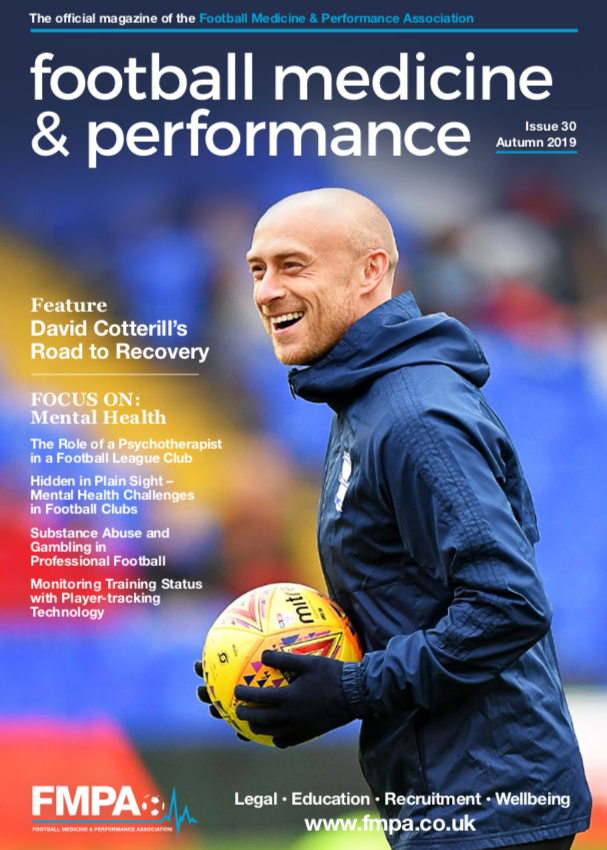 It gives me great pleasure to welcome you to this special edition of the FMPA magazine which is dedicated to mental health. Thankfully the subject is receiving much greater attention in football, and this is perhaps perfectly highlighted by The FA's recent Heads Up Campaign.
However, while greater awareness is needed, it is not without some caution. On BBC 5 Live a few years ago, Clarke Carlisle and his wife reflected on the potential downside of raising mental health awareness. As more people tuned into their mental well-being, and sought help, the services grew overwhelmed. It became clear that the support people needed was hard to come by.
Hopefully that's beginning to change. Football, in particular, can play an instrumental role in promoting mental health awareness, and as you'll read in Dr Alan Pringle's article in this edition, it can play a key role in treating mental health issues too.
As practitioners within the game – sport scientists, physiotherapists, doctors and the entire MDT – we are ideally placed to recognise and support players who are suffering. I hope the content in this edition will provide you with some of the knowledge to be able to do so.
But it's not just footballers who are at risk, we must also look out for our colleagues. The recent challenges at Bury and Bolton demonstrate the fragility of our industry, and support staff are perhaps more vulnerable in times of adversity than players.
I hope you enjoy this edition, and if ever you would like to contribute to the magazine or provide feedback, don't hesitate to get in touch.
Dr Sean Carmody
Editor, FMPA Magazine
Not an FMPA Member?  JOIN NOW