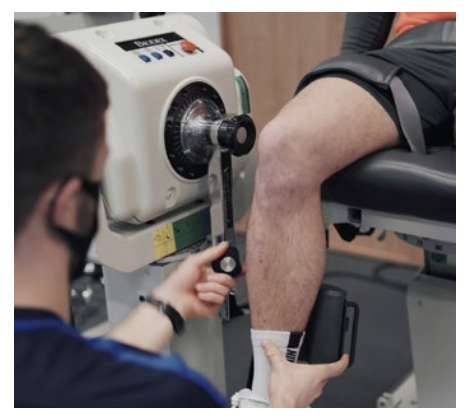 IS THERE A ROLE FOR ISOKINETICS in sports medicine?
FEATURE / DAVID FEVRE MSC MCSP SRP
Advantages and disadvantages exist for all modalities. As do opinions. Isokinetics, and isokinetic machines are by no means excluded from these interpretations. This editorial hopes to shed some light on this and will elaborate on the key roles isokinetics can play within a sporting organisation. These can occur at various stages within the club/player relationship and includes:
Pre-injury/season screening to obtain baseline data
Identifying the 'at risk athlete' during medicals
Its use within the treatment continuum, and in conjunction with the other modalities during injury treatment
Its use in injury assessment and all stages of the recovery journey
Isokinetics is an exercise modality that operates at a pre-determined fixed speed and with an accommodating resistance through the range of motion. This contrasts with the more utilised isotonic exercise, which works at a variable speed against a fixed resistance. With appropriate speed selection by the clinician, together with suitable sets and repetition prescription, muscle and joint specific loading can be created at intensities compatible with the clinical status and therapy need. If required by the therapist, maximum dynamic loading is possible throughout the range of motion.
CPD Articles
are Member Only Content
Join one of our memberships and get instant access.