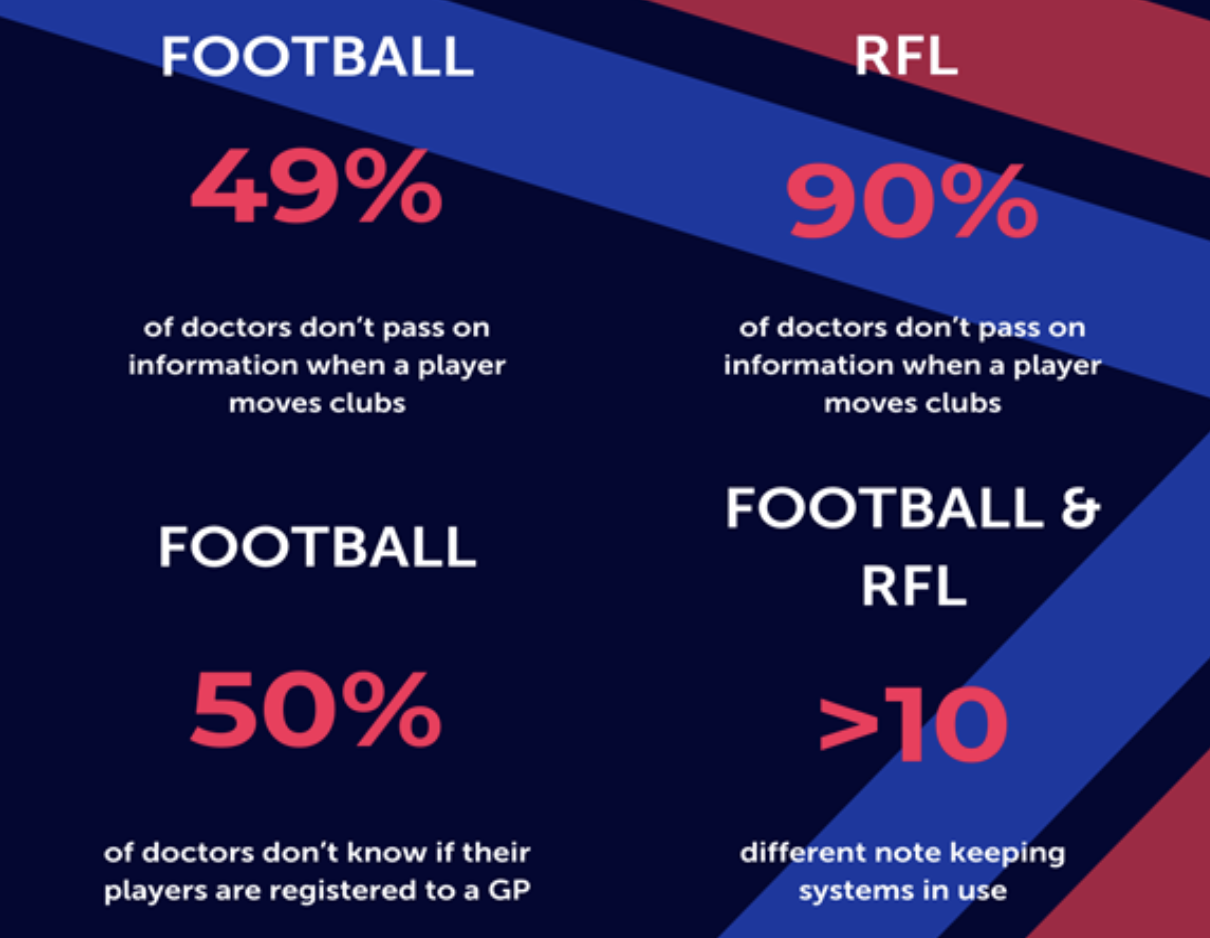 MEDICAL NOTEKEEPING STANDARDS ACROSS ENGLISH FOOTBALL: THE GOOD, THE BAD AND THE ATHLETE PASSPORT app
THE PROBLEM
After being involved in a ground-breaking legal case where there was a failure to disclose crucial medical information at
a medical, I wanted to know current notekeeping standards across English football and rugby league.
Abstract
Objective
To evaluate notekeeping in athletes across football and rugby league in England to see if current guidelines are met and appropriate care is being provided.
Design
Researched across teams to see if there is effective handover of data internally and externally. A comparative study was undertaken to see what electronic medical record (EMR) systems are currently being used. Then using the Delphi method, a questionnaire was completed.
Data sources
Doctors across Premier League, English Football League (EFL) and Rugby Football League (RFL)
Eligibility criteria for selecting studies
This had to be completed by a doctor currently working in the sport. This ranged from head first team, academy
to matchday only doctors. They were selected by being the named team doctor online and through EPL, EFL and RFL chat groups.
Results
See infographic. In 2021, an anonymous google questionnaire was completed by
77 respondents out of 92 football clubs (26% premier league, 23.4% championship, 32.5% League 1 and 18.2% league 2). In rugby league there were 28 respondents (46.4% super league, 28.6% championship, 10.7% League 1 and 14.3% covering multiple teams).
Conclusion
Data is fragmented across different siloed systems. There is poor transferability between teams and healthcare sectors.
There are currently no standardised guidelines for medical notekeeping or handovers apart from follow General Medical Council (GMC) recommendations, which is not occurring.
Solutions are needed to make health data more accessible and interoperable for daily care and medicals. An integrated athlete passport app will help manage injuries and illness better and have huge financial and time implications for all stakeholders.
MEDICAL NOTEKEEPING STANDARDS ACROSS ENGLISH FOOTBALL: THE GOOD, THE BAD AND THE ATHLETE PASSPORT app
Is Member Only Content
Join one of our memberships and get instant access.
PLEASE JOIN US