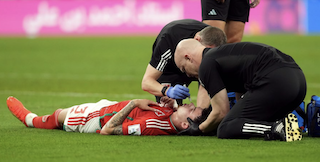 PROTECTING PLAYERS FROM THE EFFECTS OF CONCUSSION: A KNEE JERK REACTION OR BETTER SAFE THAN SORRY?
FEATURE / PHILLIP HERITAGE
Human Performance Lead and Senior Lecturer at AECC University College, Bournemouth
Introduction
Through the iconic image of Terry Butcher's bloodied, bandaged head fans and players alike have been aware of the dangers that football can hold when it comes to head injuries. But long-term neurological disease seemed to be the reserve of higher contact sports as chronic traumatic encephalopathy, dementia and Alzheimer's disease became associated with participation with American Football and more recently, rugby. However, recent analysis of health data in Scotland has concluded that footballers may similarly face increased risk of developing these diseases, with ex-players three times more likely to
be diagnosed with Dementia or Alzheimer's than their non-playing equivalents. The increased risk, associated with repeated impacts of the head, has been associated with player-to-player, player-to-ground, and player- to-ball contact and led to some proactive initiatives and temporary rule changes aimed at enhancing player protection in the professional game. While concussion injuries are mainly associated with unexpected head contact with other surfaces causing greater cranial acceleration5, long-term risks including the development of Dementia and Alzheimer's have been associated more with sub-concussive effects of heading the ball.
CPD Articles
are Member Only Content
Join one of our memberships and get instant access.