Clinically Integrated Strapping & KT Taping of Ankle/Foot and Knee Injuries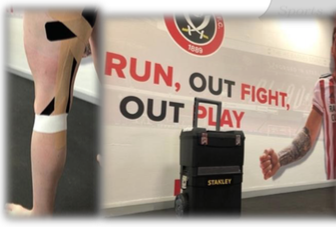 How to Book
Email your name, number, University and qualifications
Payment will be taken following confirmation of your booking
smpc.sheffield@gmail.com
"Clinically Integrated Strapping & Taping of ankle/foot and knee injuries" 
Mr Nathan (Korn) Piangcharoen (Head of Sports Medicine at Sheffield United FC Academy)
Sunday 8th March 2020 12:00pm – 5.00pm
Tony Currie Suite (Cherry Street)
Bramall Lane, Sheffield S2 4SU
Content
Key underlying concepts of Strapping and KT taping, including fundamental techniques of strapping and KT taping with anatomical, physiological and biomechanical rationales.
Hands on Strapping and KT taping with close supervision by tutors (practical session: 2/3rds of time on course) with Strapping and KT taping set provided (£50 value).
Anytime video access to content surrounding Strapping/KT techniques shown on the course.
Cost 
Early Bird Special: Register before February 8th: £150 + (£30 for strapping and KT taping set)
Register after February 8th: £180 + (£30 for Strapping and KT taping set).
If you do not want one of our Strapping or KT taping sets, you can bring your own tapes.- However, if you wish to buy a set on the day, you will pay at cost price, £50.
Afternoon tea and coffee provided from CAFFÉ NERO.
Pre-registration is essential: only 20 spaces available!