Fortius International Sports Injury Conference
Location:
Park Plaza Riverbank, London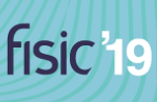 6 – 7 November 2019
Park Plaza Riverbank, London
This is our third multi disciplinary conference on the theme of Sports Injuries for Orthopaedic surgeons, Sports Physicians, Physiotherapists and other healthcare professionals with an interest in Sport at all levels.
FISIC 2019 will focus on the topic of sports injuries, their prevention, treatment, recovery and return to play. The two day programme reflects our belief in a multidisciplinary approach, and aims to achieve a 360° view of the hot topics and controversial issues of sports medicine. The sessions are designed to be broad ranging and relevant to a wide range of performance sports, examining the latest thinking and best practice. This is a unique opportunity to hear leading experts with international reputations in evidence based medicine, who will present and debate as multi-disciplinary panels.