INJURY REHAB NETWORK EVENT – PROFESSIONAL FOOTBALL PHYSIOTHERAPISTS DIANE RYDING AND DAVID FEVRE
Location:
University Academy 92 (UA92), Brian Statham Way, Stretford, M16 0PU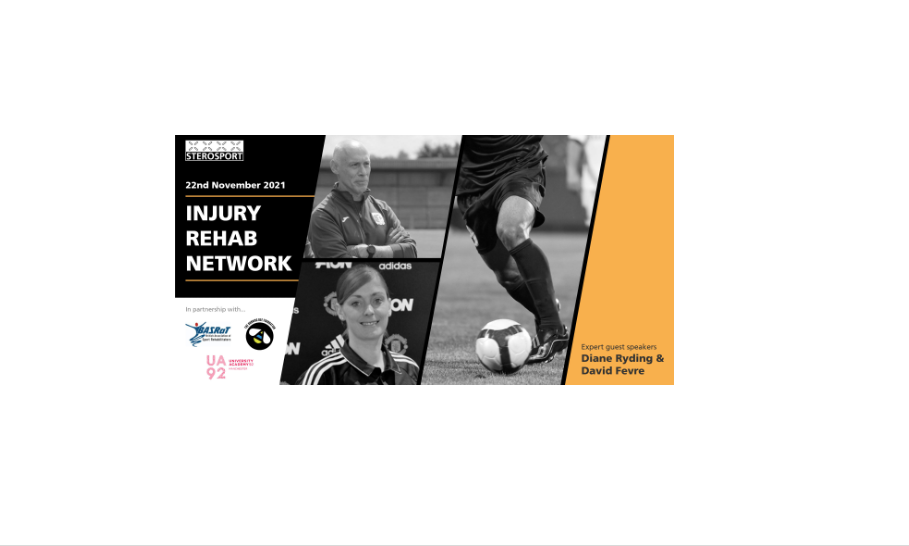 "PHYSIOTHERAPY IN AN ELITE FOOTBALL ACADEMY: BEYOND INJURIES!" AND "PITCHSIDE INJURIES – NO TIME TO BE INJURED – PREQUEL AND SEQUEL INCLUDED"
Sterosport are delighted to announce the return to a face-to-face Injury Rehab Network event in collaboration with BASRaT and UA92. Save the date (Monday 22nd November, 5pm – 8pm) for this in-person event, taking place at UA92 in Manchester, not to be missed by sports rehabilitation professionals and students.
The highlight of the event will be presentations from leading professional football physiotherapists Diane Ryding and David Fevre.
Places for this unique event are limited so please book early to secure your place. The presentations from Diane Ryding and David Fevre will also be live-streamed for anyone who is unable to attend in person. Delegates are asked to pay a minimum donation of £5 to attend this event.
All income will go to Manchester-based charity, The Running Bee Foundation. Through The Running Bee Foundation events, the charity champions health and wellbeing initiatives to promote the benefits of an active lifestyle and help in the fight to reduce childhood obesity.The Running Bee Foundation make funding accessible to all parts of communities across Manchester with no restriction on age, financial status, religion, or gender.
Event agenda: The event will commence at 5pm with a welcome from organisers, presentations about new and innovative sports rehabilitation products from 5.30pm – 6.30pm, followed by the headline event featuring presentations from and time for questions with Diane Ryding and David Fevre from 6.30pm – 8pm.
ATTEND IN PERSON – BOOK YOUR PLACE – REGISTER HERE
Date – Monday 22nd November 2021
Time – 5pm – 8pm
Cost – minimum donation of £5 to The Running Bee Foundation
Location – UA92, Manchester
Sign up – REGISTER TO ATTEND IN PERSON HERE
JOIN THE PRESENTATIONS FROM DIANE RYDING AND DAVID FEVRE ONLINE – REGISTER HERE
Date – Monday 22nd November 2021
Time – 6.30pm – 8pm
Cost – Free (online attendance only)
Location – Online (Zoom)
Sign up – REGISTER TO ATTEND ONLINE HERE