IPRS Mediquipe Biodex User Day 2022
Location:
St Georges Park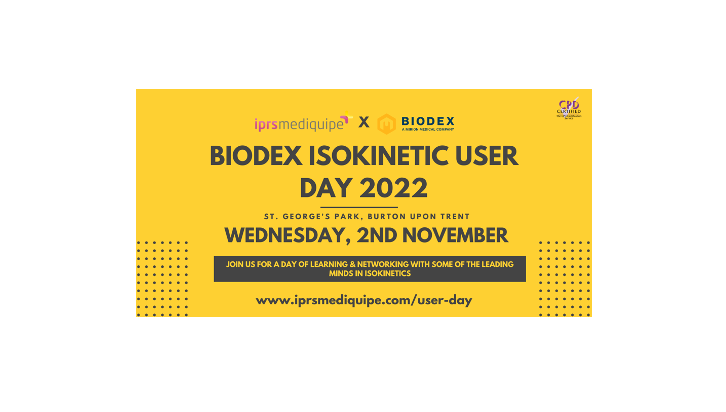 We are extremely excited to welcome you to the IPRS Mediquipe Biodex User Day 2022 taking place at the prestigious St Georges Park, the FA's national football centre, home of England teams and home of FA Education in Burton upon Trent, on Wednesday 2nd November for a day of learning, collaboration and networking with 9 sessions from some of the leading minds in the world of Isokinetics.
This year, we have increased the number of speakers at the event and to ensure a worthwhile experience for both existing and potential isokinetic users, this clinical focus day has the opportunity of giving hands-on experience by running parallel workshops offering both flexibility and maximizing your learning experience.
Speaking at the event will be:
Nicholas Clark – Lecturer (Education and Research) in Physiotherapy, University of Essex
John Hartley – Head of Physio at Derby County
Matt Greig – Associate Head (Sports Therapy) at Edge Hill University
Ibrahim Kerem – Women's Head of Physio at Manchester United
Bill Galway – Senior Director of International Business Development and Sales at Biodex
Dave Fevre – Freelance Consultant. Teaching faculty for both RFL/FA/ and IPRS Mediquipe Clinical Support Lead
Martin McIntyre – SISM Sports Injuries & Sports Medicine Clinic
Gareth Thomas – Scholars Therapies and IPRS Mediquipe Clinical Educator
Lunch & refreshments will be provided and all delegates will have the opportunity to take part in a tour of the state-of-the-art facilities St. George's Park has to offer.
How to attend
Tickets for the event are priced at £120 (inc VAT) and can be booked through our ticketing partner Bookitbee through the below link. Spaces are limited, so don't hesitate!
Accommodation
The Hilton Hotel, on-site at St. George's Park is an ideal place to stay over the night before and after the User Day. Rooms can be booked here.
If you'd like to speak to our team ahead of booking for the event, please get in touch with us here.