Performance & Leadership in Football
Location:
JA The Resort, Jebel Ali Beach, Dubai, United Arab Emirates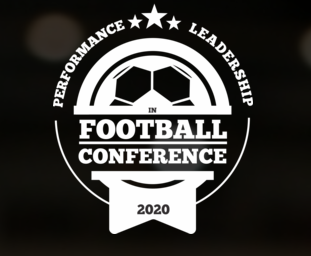 After careful consideration and discussions with stakeholders, we announce that the upcoming Performance & Leadership in Football Conference (PLFC), which was due to take place on 26th and 27th March, will be postponed until the 12th and 13th November 2020.
Following guidance in light of the global updates around coronavirus (COVID-19) we are taking precautionary measures to prioritise the health and safety of all involved in the PLFC. We will be rearranging the conference and will share more details in due course. For any queries please feel free to email us on enquiries@plfcdubai.com Thank you to everyone for your support for the conference so far, we look forward to seeing you in November.
20% DISCOUNT FOR FMPA MEMBERS (International Delegate rate)
It's Just Football Performance & Leadership in Football Conference (PLFC) is a global platform specifically focused on developing football in the MENA & Sub Continent region. It is a collaborative stage where experts and thought-leaders from the football fraternity across the world will come together to share insights and help advance the future of coaching. This is 1st of the 3 series conference which will focus on uniting football and the sports fraternity in order to educate and develop the game.
The PLFC is a practically-driven interactive conference which includes real-time case studies and experiences. The theme is designed to educate delegates on innovations in coaching.
The panel of speakers consist of elite experts and coaches who have consistently broken conventions and leveraged sport science and innovative methods to develop talent.
FOCUS AREAS
A holistic approach that integrates data, physical, physiological and psychological variables that influence football performance
DATA ANALYSIS
PHYSICAL & TACTICAL
Applying data analytics and technology solutions to enable forward thinking by coaches in the competitive sports field with the latest tech that links the performance components together
MEDICAL – INJURY PREVENTION
SCIENCE
Insight into Injury management and prevention at the youth and international level including specifically looking at gaining greater understanding of overuse injuries and their treatment
STRENGTH & CONDITIONING
PHYSICAL SCIENCE
Understanding the development of position Specific attributes in the modern game at both youth & senior level
PERIODISATION
(CLUB V COUNTRY)
Strategies and processes to enhance development of Players by implementing modern training  methodologies to optimise players physical performance, comparing a season to shorter tournament football
SPEAKERS:
⋅ Current Head of Sports Science – PFCLudogorets
⋅ Former Head of Sports Science – Celtic FC
⋅ Former Head of Performance – New York Knicks
⋅ Former Head Physiotherapist – England National Team, Chelsea & Leeds
⋅ Performance Consultant – Nottingham Forest FC, Brondby IF and Catapult Sports
•FIFA Technical expert
•Board member of Sheffield United FC
•Former technical director of Saudi-Arabia
•Former assistant of Marcelo Bielsa at Olympique De Marseille
⋅ Current Physical Performance Consultant Coach at the FA
⋅ Former Sports Scientist/Strength and Conditioning Coach Manchester City
⋅ Former Strength & Conditioning consultant to England rugby