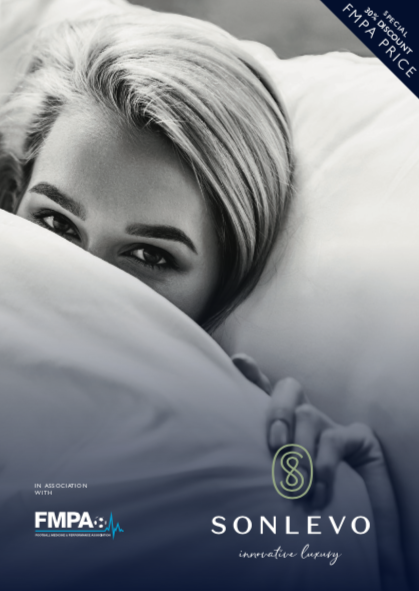 Sonlevo
New British mattress brand Sonlevo enjoys successful launch and achieves high levels of retailer engagement with an innovative range that offers 400% better airflow than standard foam
Sonlevo, a new British mattress brand, launched a unique debut range to market at the NBF's tenth Bed Show in September 2019. Using proprietary AvidTM foam technology, Sonlevo's innovative range offers 400% better airflow than standard foam and is set to further challenge the premium bed market with three mattresses that pioneer the fusion of foam technology and high-count pocket spring manufacture.
The five AvidTM technology mattresses in Sonlevo's range include two full foam mattresses; AvidTM Halo and AvidTM Alto, and three foam and interior sprung AvidTM Duo mattresses with a choice of 3000, 6000 and 9000 pocket springs. All five mattresses come with a 10-year warranty and truly deliver on all elements of their construction giving the best night's sleep through posture support, comfort and temperature regulation.
Sonlevo is proudly British and dedicated to providing supremely comfortable, cool sleep; all Sonlevo mattresses are manufactured in Oxfordshire using components sourced through UK companies ensuring complete control over quality. Affiliate partnership status has already been secured with the Professional Football Association (PFA) and Football Medicine and Performance Association (FMPA) recognising that there is no substitute for a good night's sleep, especially for elite sportspeople.
Key benefits of Sonlevo's unique debut range:
Five mattresses in the range; two full foam mattresses, and three mattresses set to challenge the premiummattress market through an innovative fusion of foam and a choice of 3000, 6000 or 9000 pocket springs
Enhanced cooling and airflow properties provided by Sonlevo's innovative AvidTM foam technology offering400% better airflow than standard foam
Maximum comfort through premium pressure relief and responsive support offered by foam, and thecombination of foam and high-count pocket springs
Mattresses available on their own or with divan bed bases, with or without drawers, and with headboards
Divan bases and all headboards available in fifteen fabric choices
Made in the UK
10-year warranty
Recognition from sports associations PFA and FMPAGeorge Berry, Commercial Director at the PFA says "Sonlevo inherently understand how important sleep is to our members. Correct posture support and ultimate comfort are paramount to achieving the best sleep and, as a consequence, the best performance the following day. We are very pleased that Sonlevo have been approved as a PFA Commercial Partner and to offering the benefits of their mattresses to all PFA members"."We were delighted to launch Sonlevo at the NBF's tenth show in Telford", says Jon Baker, Business Development Director of Sonlevo. "It was the perfect platform for the brand to reveal its unique range of mattresses and to showcase our innovative fusion of AvidTM foam technology with a high count of pocket springs. We are now looking forward to securing key accounts for the future".
Early in November a dedicated advertising campaign commenced in The Times Newspaper and the consumer website went live (with an interactive store locator function). A promotional calendar has also been developed and made available to ensure year round support for all retailers during busy trading periods.
VIEW BROCHURE to claim your 30% discount
Email marketing@sonlevo.co.uk for prices and further info.
Visit the website to learn more about the brand and AvidTM technology visit sonlevo.com