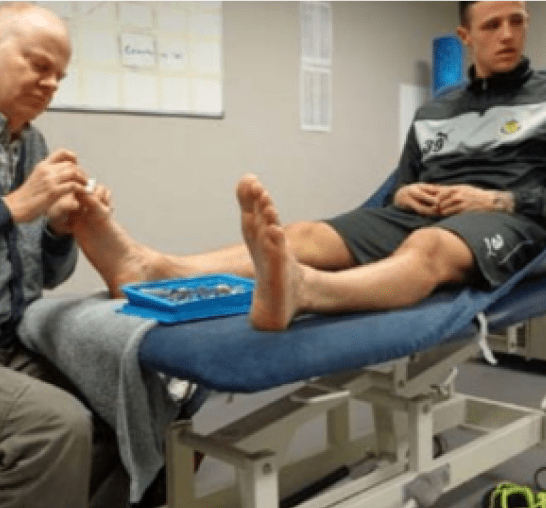 Podiatrists
Podiatrists are specialists in the treatment of feet, ankles and lower limbs. They work with patients to prevent injuries and diagnose and heal existing injuries. Podiatry involves taking x-rays, setting fractures and treating other injuries, as well as prescribing physical therapy and medication. Usually they will be involved in the treatment of bone, muscle and joint disorders affecting the feet. Podiatrists treat deformities utilising mechanical methods such as whirlpool or paraffin baths, and electrical methods, such as short wave and low voltage currents. They advise patients about treatments and foot care techniques necessary for prevention of future problems.
Entry Requirements:
Typically, you would need to complete an approved full time honours degree BSc Hons in podiatry, which are usually offered on full time basis for three years.
A-Level Entry Requirements:
BBB
Subjects required: Science or Social Science
In Football
The podiatrist in a club is a vital part of the medical support framework. Conditions seen vary from simple toenail cutting to more complicated procedures such as nail resection and general health care of the skin and joints. Identifying problems at an early stage helps to anticipate potential complications arising and the Podiatrist should be a part of the prevention strategy at any Club. It is important to have a good working relationship with the players as they ultimately develop confidence with you as a practitioner. Most importantly, have enthusiasm in your work and always maintain competent work skills.
The FMPA recommends:
Membership of the FMPA. A network of Podiatrists is being created within the game and will be the start of an interest group moving forwards.
Sports related courses
Orthopaedic courses and events.