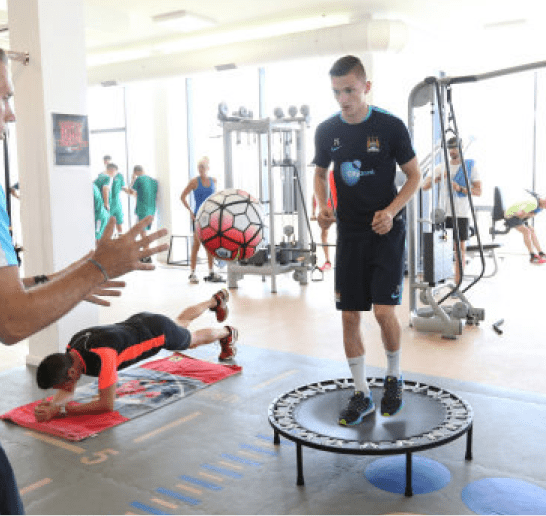 SPORTS THERAPY AND FOOTBALL
Sports Therapists play an important role in preventing, assessing, treating and rehabilitating sports injuries and providing emergency first aid. When designing a rehabilitation plan, they identify the injury and its causes and place the patient and their sport at its centre. The main goal is to help the athlete return to optimum, sports-specific function in the shortest and safest time possible and avoid re-injury. Sport therapists carry out assessments to evaluate their patients' range of movement and aid in the development of treatment plans to regain full fitness. Typical treatments include improvement of strength, stamina, balance and exercise tolerance. Therapeutic exercise, strapping, taping, heat therapy, electrotherapy, joint manipulation and massage are used to regain fitness.
Courses in sports therapy, are accredited by The Society of Sports Therapists.
In Professional Football, a Sports Therapist can be utilized to complement a Multi-Disciplinary Medical Department. They will play an important role in the day to day running of the Medical Department and engage in assessment, prevention, treatment and rehabilitation programs. Many Sports Therapists will also travel with teams to provide pre-match preparation, post-game recovery strategies and emergency first aid.
Entry requirements:
Typically Sports Therapists working in professional football within the UK will have a BSc Sports Therapy degree.
A-Level Requirements:
AAB
Essential Subject Requirements: Biology, Human Biology or Physical Education
Role within Football
Sports Therapists work closely with and alongside Physiotherapists and other members of the multidisciplinary team that is common to Professional football clubs
In general, Sports Therapists are responsible for:
The welfare of players.
Providing assessment, treatment and rehabilitation to injured players.
Clinical decision making process (fitness of player to train or play).
Player education (injury prevention).
Continuing Professional Development.
Communication regarding injury status and rehabilitation of players to coaching staff, parents and the Head of Medical.
Medical records. All medical records must meet the standards set by The Society of Sports Therapists (SST).
Effective soft tissue treatment, rehabilitation and management of injuries sustained by our professional players.
Aiding players in their pre and post training and match requirements. Ensuring rehabilitation and individual injury prevention programs are designed and implemented effectively on a daily basis in conjunction with the Sports Science department.
Assisting in the delivery of daily individual and team injury prevention session strategies.
Undertaking appropriate training necessary to update your skills and maintain skills to fulfil the job role.
Participating and contributing to regular in-service training within the medical department.
Assisting, where required, with the current screening process already in place and to contribute to the development of this process.
Working with other members of the Medical Team to provide an holistic approach to the treatment and prevention of injury.
Essential Requirements
Recognised undergraduate degree in sports therapy/rehabilitation
Appropriate indemnity Insurance
Desirable
Membership of the Society of Sports Therapists or similar.
Sports Massage qualification (of which there are many different types).
MSc
Experience working within elite sports, preferably football.
Experience of producing and applying evidenced based rehabilitation protocols / programmes for elite athletes.
FA Intermediate First Aid for Sport Qualification (IFAS)
The FMPA highly recommends
Membership of the FMPA. This demonstrates a desire to engage with and network with professional colleagues in the game and to keep up to date with the very latest in the industry via our website, forum, magazine and annual Conference
As with many professions, Continuous Professional Development is essential to not only maintain professional membership, but also for you to grow as an individual, develop and fulfil your potential throughout your career. There are many courses and evening or weekend lectures out there that are suitable for a Graduate Sports Therapist. We would suggest that you research the courses or lectures on offer, and build up a list that you feel would help develop you and allow you to grow as a Sports Therapist. Conferences are often a way of exposing yourself to a number of topics, and interesting fields of research which could whet your appetite for a specific course, lecture or area of research in the future.
If you can couple your professional development with relevant experience in as many different sporting environments as possible, then you will enhance your profile further. This experience is a key ingredient that many potential employers will look for. Someone who has gained experience by volunteering at their local non-league football team or enhanced their handling skills by offering soft tissue therapy treatments to the amateur running club would give themselves a greater opportunity to impress a recruiter.