**OUT NOW** Football Medicine & Performance Publication
---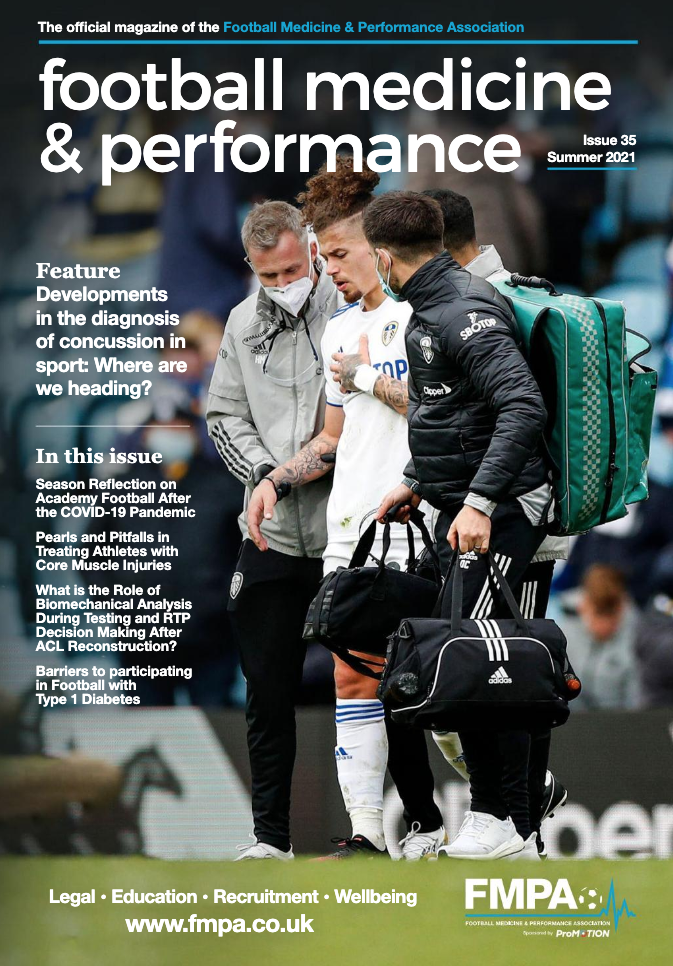 Welcome to this edition of Football Medicine & Performance which has been collated during the brief gap between the men's European Championships and the Olympics – which will see the best women international footballers in the world compete for gold.
UEFA Euro 2020 (or 2021) demonstrated the best of football medicine care as Christian Eriksen survived a sudden cardiac arrest on the field of play. The image of a conscious Eriksen being stretchered off the pitch was the highlight of the tournament; an incredible outcome, especially to those accustomed to the often futile efforts of CPR in a hospital setting.
The FA have set the standard for pitchside care in recent years with the ATMMiF course. Those standards alongside regular scenario practice and emergency action planning have real potential to save lives. In order to continue to enhance the delivery of pitchside care, football may consider taking lessons from our surgical colleagues who have used morbidity and mortality (M&M) meetings for over thirty years as a tool to reflect on challenging cases and drive improvements in clinical service. In time, our community would benefit from learning about what went well in the Eriksen case.
It was Groundhog Day in the France versus Germany fixture as the potential mismanagement of a head injury made headlines worldwide. Another international major tournament, another concussion controversy. However, the difference on this occasion was the governing body demanded answers around the decision-making which led to the unconscious Benjamin Pavard being kept on the field of play. In this edition, Jonny Gordon's interview and Patrick O'Halloran's article on concussion biomarkers provide potential solutions to account for 'human error' in football medicine.
Finally, the scenes of targeted racial abuse that mired the aftermath of the Euro 2020 final provided a depressing insight into the challenges we all face to bring about a more tolerant and inclusive society. Bukayo Saka, Marcus Rashford and Jadon Sancho are a credit to their nation, and their continued inspirational efforts will undoubtedly drown out the vocal minority who seek to sow division. Our community can play a role in developing a more inclusive society by continuing to promote diversity and equal opportunities, and calling out abuse in all its forms.
We hope you enjoy reading this edition.
Dr Sean Carmody, FMPA Magazine Editor – Dr Fadi Hassan,  FMPA Magazine Editor –  Dr. Andrew Shafik,  FMPA Magazine Editor