'football medicine and performance' – Issue 36 OUT NOW
---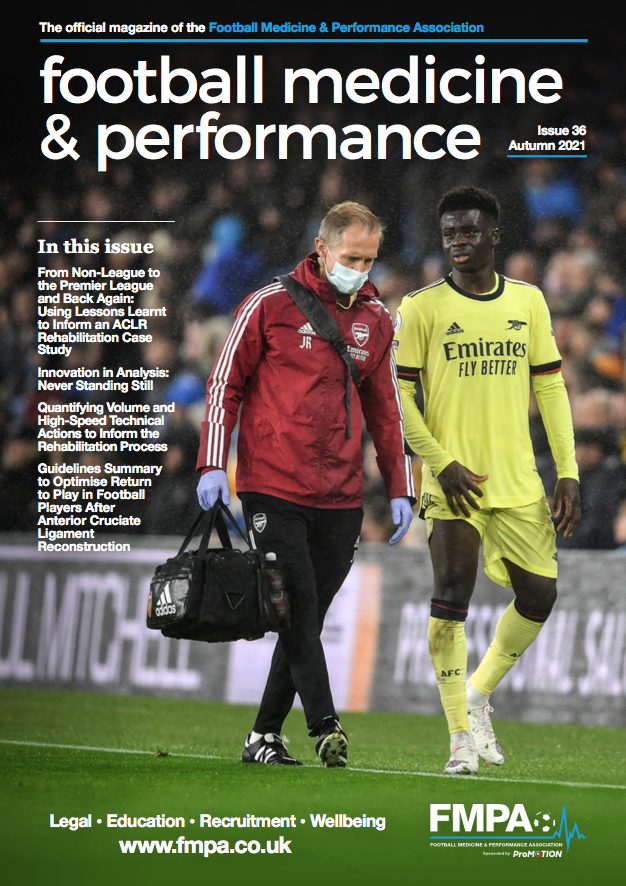 Welcome to the 36th edition of Football Medicine and Performance.
We are very pleased to welcome you to the 36th edition of Football Medicine & Performance. This edition is brought to you on the backdrop of a growing output from The FMPA education team including articles, infographics and regular podcasts featuring the latest developments in football medicine and science. We are determined to ensure the content is relevant to those working at the coalface and as ever, we invite your contribution to this magazine.
The standards in football medicine and science continue to grow across the board thanks to the developing landscape of research in football medicine. Prof Jan Ekstrand's UEFA Elite Club Injury Study has set the tone for the quality of research – although as Katrine Kryger explains in this edition, more research needs to be focussed on women's football.
This edition shines a light on the Academy footballer. Fewer than 1% of those playing in Academies at nine years of age will make it as a professional footballer in England. As Jon Larruskain's article outlines, the chances of making it at the senior grade are even further hindered by injury due to the impact of 'lost development time'. Larruskain's research will be highly relevant to those operating at Board level who make decisions about contracts and the level of funding for rehabilitation and injury prevention at Academy level. There is an urgent need to address how to mitigate the negative impact of 'lost development time', so that talented young footballers can have a career in the game even in spite of injury.
We hope this varied edition featuring innovations in performance analysis, organisational change and the use of virtual reality inspires you to drive higher standards for the players you support.
Dr Sean Carmody Editor, Dr Fadi Hassan, Editor FMPA Magazine, Dr. Andrew Shafik, Editor FMPA Magazine
*Member log in required