OUT NOW: Issue 38 – Spring 2022
---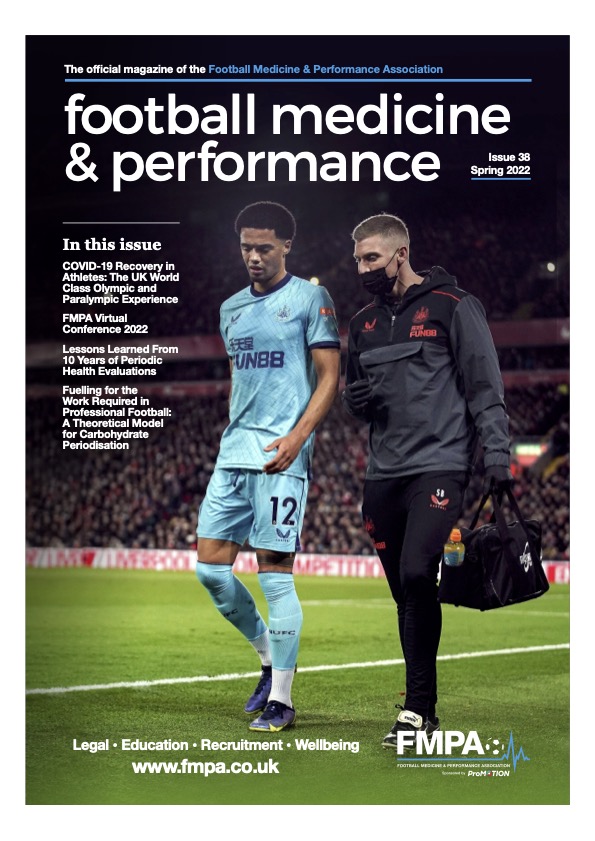 The 38th Edition of the Football Medicine and Performance editorial is upon us and we are proud to present you with this edition.
With the season coming to an end, there is a greater focus on the preventive medicine during the off season. In this edition, Dustin Nabhan discusses this important topic and the role of the periodic health evaluation, a clinical process many of our practitioners will be undergoing in the coming months.
We are also pleased to see restrictions easing off as life gradually returns to normal. As sport continues and we learn to manage our athletes during this time, Craig Ranson and James Hull's article on COVID-19 clinical patterns, recovery time and prolonged impacts gives us an idea of what to expect next with our athlete population and how to optimise their care.
This edition also marks the start of a partnership with the Aspetar Sports Medicine Journal, with content being shared between the two organisations. We feel this will help to enhance accessibility to evidence and high-quality content. To start this off, this edition features an important article on imaging in football medicine, which is an essential component in managing injured athletes and can be a complex one too, hence, this article will provide a basic introduction to the topic.
Lastly, we would like to invite you all to our upcoming workshops. The 2022 FMPA Virtual Conference will take a critical look at three pillars producing effective performance. The people behind the scenes, the processes that they work by and because we are now in the generation of technology the products by which we use to continually improve our practise.
The "Three P's of Productive Performance" event will take place over 3 virtual workshops held over the second week of June and will provide around 11.5 hours of CPD for FMPA members. The event is FREE for FMPA Members and the content will be available to view for the whole of the 2022/2023 season.
We hope you enjoy this edition and we will see you in the 2022 FMPA virtual conference!
Dr Sean Carmody – Editor, FMPA Magazine
Dr Fadi Hassan – FMPA Magazine Editor
Dr. Andrew Shafik – Editor, FMPA Magazine