Issue 39 – FMPA PUBLICATION – OUT NOW
---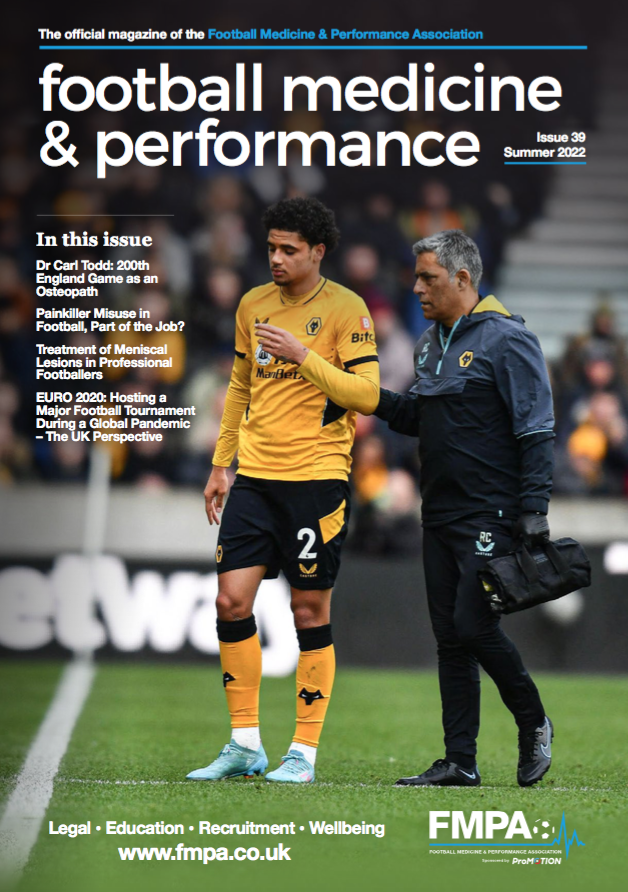 The 39th Edition of the Football Medicine and Performance editorial is among us as we embark on another footballing season.
Reflecting on this time last year and Euro 2020, Stephen Boyce and Mike Patterson discuss lessons and the challenges of hosting a major football tournament with the added complication of doing so during the global pandemic.
Another reflection shared in this edition is one from Carl Todd. Carl is a renowned name in the game with years of experience as an Osteopath at club and international level. Here, he shares his insights into his journey leading to 200 international games as an Osteopath. Carl was also our July guest on the Football Medicine and Performance podcast so head over to our podcast page to listen to Carl talk about his journey.
With training loads increasing from the pre-season phase into the season, Frankie Hunter and Co share a comparison of the weekly training loads of English Premier League academy players. This spike in training load can increase injury risk and therefore the increased input of medical staff and medical management. In this edition, Daniel Read discusses a key article on Painkiller misuse in football.
This edition also marks the start of a partnership with the FA Medical Society, with members of our education team transcribing the quality FA Medical Society CPD events for our readership. Our first transcribed FA Medical Society event is on the interesting topic of Osteochondral Lesions of the Knee, an event held during the latter part of last season.
The "Three P's of Productive Performance" workshops took place over 3 virtual workshops held over the second week of June and was a huge success. A huge congratulations to Kevin Paxton and team for their hard work in organising insightful workshops. These can all be accessed online through the members area of the website.
Lastly, a big congratulations to the new members of the education team. The FMPA were overwhelmed with applicants, a real credit to the members of the community. Keep your eyes peeled on future editions as we share with you profiles of our new members.
We hope you enjoy this edition and good luck for the upcoming season.
Dr Sean Carmody, Dr Fadi Hassan, Dr Andrew Shafik
FMPA Magazine Editors